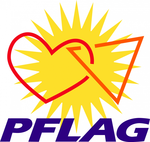 We Are the Change: The 2019 PFLAG National Convention
PFLAG National
We Are the Change: The 2019 PFLAG PFLAG National Convention
Kansas City, MO
October 25-27, 2019
PFLAG chapter leaders, members, supporters and equality advocates from across the country will join together in Kansas City, MO to honor and build on our 45 year legacy at our biannual national convention. They'll learn new skills, build relationships, and shape the future of the movement for LGBTQ equality.
Workshop submissions for this convention should be focused on educating and empowering the PFLAG chapter network and its community of allies to achieve PFLAG's mission of being changemakers who provide support, education, and advocacy in their communities and beyond.
Call Closed
This call is no longer accepting submissions. For a list of calls that are currently open in ProposalSpace, check out our active calls page.