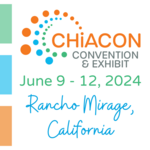 CHIACON24: Call for Proposals
California Health Information Association (CHIA)
Every June, the California Health Information Association Convention & Exhibit (CHIACON) brings together today's health information (HI) professionals for three days of robust education and networking opportunities that elevate their professional value through LEAD – leadership, education, advocacy and discovery. From adopting new and proven LEADing practices, introducing innovative products and technology that positively affect the workplace, and breaking down legislative changes to understand its impact on the HI community better, CHIACON will keep you informed. The CHIACON agenda provides unique networking opportunities that engage all HI professionals in fun and exciting programs encouraging professional connections.  
CHIACON24 will take place June 9-12, 2024, at the beautiful Westin Rancho Mirage Golf Resort & Spa in Rancho Mirage, California. Join us in 2024 as a dynamic thought leader and presenter to share exciting and valuable solutions that address today's challenges in HI. We encourage you to submit a proposal to our health information community that promotes Empowering Health Information Professionals to Impact Health through Trusted Information.
Keynote and General Sessions

Broad-base topics that will inspire and empower the health information community.

Audience range: 200 - 500 participants.

Presentation time: 60 - 75 minutes.
Learning Tracks
Organized sessions that focus on specific topics or applications so attendees can customize an excluxive learning experience.

Audience range: 75 - 100 participants.

Presentation time: 50 minutes.
The CHIA Convention Committee reviews all submissions and considers content that includes best practices/lessons learned, case studies, innovative and actionable ideas addressing today's challenges, and leadership solutions.
How to Submit a Proposal - due October 13, 2023
Login or create a ProposalSpace account if you don't already have one.

Each presenter is required to have an account.

 

For first-time users, please take the time to complete the profile information. This will save time and steps later.

From the Dashboard, select Proposals: Start a new proposal and search for CHIACON24 Call for Proposals.

Complete the form. Save the form as a draft and return it to edit until submission.

Individuals can submit up to four proposals.

A maximum of two (2) proposals will be selected.
Contribute to CHIA's value through LEAD – leadership, education, advocacy and discovery. Submit a CHIACON24 Proposal today. 
Learn more about CHIACON24 on the CHIACON24 Convention & Exhibit webpage
Start a proposal
To start a proposal for this call, first sign in to your ProposalSpace account.
Don't have an account? Register for free.