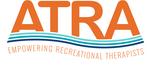 Heading into the Future: 2023 Interprofessional Virtual Summit on Brain Injury
American Therapeutic Recreation Association
The American Therapeutic Recreation Association (ATRA) is inviting presenters, researchers, consumers, and practitioners to present at the 2023  Interprofessional Virtual Summit on Brain Injury to be held during the month of May 2023. Pre-recorded presentations will be available for viewing by registrants from May 1 – 21, 2023. 
Presentations on practice, interventions, research, legislation, advocacy, and other relevant topics on brain injury are invited. Priority in selection will be given to interprofessional presentations involving more than one discipline. This summit is designed to provide the latest information on care and treatment for people with brain injuries, and a way to advance the Concussion Awareness Now coalition. 
ATRA is the largest professional association representing recreational therapists and the consumers they serve. ATRA is committed to empowering recreational therapists in interprofessional practice to provide individualized treatment aimed at improving the quality of life and functioning of people with disabilties and chronic conditions. 
Start a presentation proposal
To start a presentation proposal for this call, first sign in to your ProposalSpace account.
Don't have an account? Register for free.