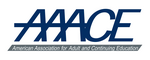 AAACE 2023 Annual Conference
American Association for Adult and Continuing Education (AAACE)
Conference Theme: Informing, Reforming, and Transforming: The Vital Role of Adult Education in Challenging Times
Now, maybe more than ever, we need adult educators. Society faces a growing list of challenges as we continue to search for "new normals" and apply the many lessons learned since early 2020. Information overload, rapid technological changes, ideological division, and socioeconomic stressors create unprecedented challenges for adults navigating their increasingly complex lives.  In times like these, Adult Educators are endowed with tremendous opportunities for informing, reforming, and transforming.

The field of Adult Education is broad and long, and adult educators are actively engaging learners across the spectrum of society. From the workroom to the classroom, the community center to the training center, from apprenticeships to assistantships, in settings ranging from rural to urban, adult educators are doing the work to facilitate learning that leads toward the transformation of lives and communities.

The varied nature of our experiences as adult educators creates an incredibly rich pool from which to learn and grow. Join us October 3-6 in Lexington, KY for AAACE 2023. We invite you to submit a proposal to share what you are learning through your practice, research, learning, leadership, and theorizing. Opportunities for presentations include concurrent sessions, round-table discussions, poster presentations, and symposia.
Call Closed
This call is no longer accepting submissions. For a list of calls that are currently open in ProposalSpace, check out our active calls page.