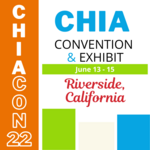 CHIACON22: Call for Proposals
California Health Information Association (CHIA)
The California Health Information Association Convention & Exhibit (CHIACON), held annually in June, is California's premier event for today's health information professionals. CHIACON offers dynamic education and networking opportunities featuring three days of interactive learning sessions. With hundreds of health information professionals in attendance, this is an event not to be missed! CHIA is seeking dynamic thought-leaders to present topics describing innovative solutions addressing today's challenges for health information professionals. 
CHIACON22 is scheduled to take place 'in-person' at the Riverside Convention Center in Riverside California, June 13 - 15, 2022. We invite you to submit a proposal that promotes Empowering Health Information Professionals to Impact Health with Trusted Information to our health information community. The CHIA Convention Committee will review all proposals and consideration is given to content addressing best practices/lessons learned, case studies, innovative and actionable ideas addressing today's challenges, and leadership solutions. The Committee looks forward to reviewing all proposals and developing the program for CHIACON22. 
How to Submit a Proposal - due November 30, 2021
Login or create a ProposalSpace account if you don't already have one

.

Each presenter is required to have an account.

 

For first time users, please take the time to fill out the profile information. This will save you time and steps later.

From the Dashboard, select Proposals: Start a new proposal and search for: CHIACON22 Call for Proposals

Complete the form. You can save as a draft and return to edit until submission. 

Up to four proposals can be submitted per individual; maximum of two proposals will be selected for program
Sharing knowledge and experiences with others is invaluable. Submit a CHIACON22 Proposal today. 
Learn more about CHIACON22 on the CHIACON22 Convention & Exhibit webpage
Start a proposal
To start a proposal for this call, first sign in to your ProposalSpace account.
Don't have an account? Register for free.