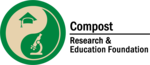 CREF COMPOST2022 Call for Researchers
Compost Research and Education Foundation and US Composting Council
CALL FOR RESEARCHERS (If you are looking for the GENERAL CALL FOR SPEAKERS AND POSTERS and not the one for the research track click HERE, and if you are looking for the CALL FOR FULL SESSIONS, click HERE)
The COMPOST RESEARCH & EDUCATION FOUNDATION is expanding our annual conference research session by adding a full research track. This track is open to anyone who wants to present their research but preference will be given to peer-reviewed research papers.
The USCC's Annual Conference and Tradeshow is the premiere professional meeting for composting, organics recycling, and related topics. It will be held January 24-27, 2022 in Austin, Texas
Submission Due Date: July 15, 2021
Abstracts are encouraged on topics in each of these areas. Others will be considered
Climate change and carbon storage in soils
Water conservation using compost
Testing methods and protocols for feedstocks & finished compost
Compost use in green infrastructure
Disease suppression from compost use
Facility construction issues (ground water protection, pad construction, bio-security, state regulations)
Nutrient content of storm water from compost facilities
PFAS in compost or storm water from compost facilities
Using compost on agricultural crops to improve yield
Compost air emissions: testing, management and permitting
Compost process research regarding food waste
The impact and fate of plastic contamination in compost feedstocks
Pathogen studies addressing fecal coliform regulations
Persistent herbicide detection, fate or remediation
Proposers can choose to either a live presentation or poster presentation. Live speaking proposals that are not selected for presentation may be offered a poster presentation.
VIRTUAL POSTERS
Virtual posters were introduced last year in the pivot to a virtual conference and were well received, so this year we will incorporate them into the regular conference. Posters are either a short series of slides or a short video that will be viewed online. They are hosted on our conference website, organized into themes, and viewable before and during the conference. There will be dedicated times during the conference for groups of poster authors to gather (both virtually and in-person) to answer questions about their individual poster and discuss the general theme of the group. These poster meeting sessions will be available to the in-person attendees in a dedicated meeting room as well as a virtual meeting room for remote attendees. You can see the 2021 posters at https://compostconference.com/2021-posters/
Why speak at COMPOST2022? The Conference routinely attracts over 1000 attendees working directly in the fields of compost manufacturing and organics recycling. This guarantees speakers outstanding professional exposure as well as great networking opportunities. Lead speakers for the research session will receive complimentary registration to the conference.
Presenters can expect to have 20 minutes for their presentation, plus a few minutes for Q & A.
Abstracts for talks should be clear and concise and be no more than 300 words. A CREF review committee will rate all abstracts. Ratings are based on content, clarity and format.
Accepted abstracts will be available to view on-line prior to and at the conference.
Start a Compost Research Track Proposal
To start a Compost Research Track Proposal for this call, first sign in to your ProposalSpace account.
Don't have an account? Register for free.