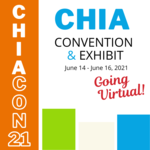 CHIACON21: Call for Proposals
California Health Information Association (CHIA)
CHIACON is California's premier event for today's health information professionals and offers education on a variety of topics and networking opportunities to a wide spectrum of professionals, from entry-level to middle and senior management, plus those involved in related fields. This exciting Convention & Exhibit is held annually in June and includes more than 40 educational sessions, Industry Innovation presentations, and more. With hundreds of HIM professionals in attendance, this is a presenting opportunity you don't want to miss!

CHIACON21 is going virtual! With the success of the virtual CHIACON20 and the uncertainty surrounding in-person events, the CHIA Board has decided to hold CHIACON21 virtually on June 14 - 16, 2021. The CHIA Convention Committee is still in the planning phase and although we do not have all the answers yet, we are excited about this unique opportunity. We are looking for innovative solutions to bring a virtual first-class convention and experience to CHIA's health information community.

Consider joining us for this innovative opportunity and submit a CHIACON21 Proposal today.
Start a proposal
To start a proposal for this call, first sign in to your ProposalSpace account.
Don't have an account? Register for free.