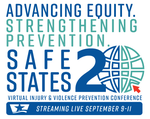 Safe States Virtual Conference 2020
Safe States Alliance
Thank you for submitting an abstract for the Safe States Alliance 2020 Virtual Conference! Authors are invited to submit abstracts for consideration related to both original research and program activities that focus on all aspects of injury and violence prevention as they relate to the 2020 conference theme, "Advancing equity. Strengthening prevention."
For this year's Virtual Conference, we are interested in abstracts that address issues of equity and their connections to injury and violence prevention programs, practices, policies, and surveillance will receive priority. Of particular interest are abstracts that discuss: inequities associated with the COVID-19 pandemic and response, racism, racial violence, police brutality, and the impact and/or intersectionality of these topics with injury and violence prevention practice.
We know so many of you are doing exciting work within your communities, states, and nationally, and it's your time to shine by sharing your innovative work with colleagues from across the country. We look forward to reviewing each submission. If you have any questions, please contact Eva Bland (eva.bland@safestates.org).
Call Closed
This call is no longer accepting submissions. For a list of calls that are currently open in ProposalSpace, check out our active calls page.