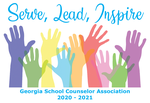 Serve, Lead, Inspire (GSCA 2020 Annual Conference)
Georgia School Counselor Association (GSCA)
Do you have innovative ideas and strategies to share with your fellow counselors throughout the state? Why not present a program at the 2020 Annual Conference in Savannah? Submit a program proposal today!
Proposals covering various topic and interest areas of school counseling such as Academic Achievement, Information Technology, College Readiness, Social Emotional Learning, and Mental Health Awareness - just to name a few - are accepted. Proposals that incorporate this year's conference theme, Serve, Lead, Inspire, are highly encouraged!

In addition, we are also welcoming school administrators to attend our conference this year so they can learn more about the potential contributions and impact of school counselors in their buildings. Please consider proposing workshops for this targeted audience.

Deadline to submit your proposal is Wednesday, May 13, 2020. Acceptance decisions will be emailed to submitters by mid to late July.
For questions regarding proposal content, please email proposals@gaschoolcounselor.org.

For general conference questions, please email info@gaschoolcounselor.org.
"Your gifts are not about you; leadership is not about you; your purpose is not about you. A life of significance is about serving those who need your gifts, your leadership, your purpose." ~ Kevin Hall
Start a proposal
To start a proposal for this call, sign in to your ProposalSpace account.
Don't have an account? Register for free.