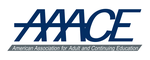 AAACE 2020 Annual Conference
American Association for Adult and Continuing Education (AAACE)
69th Annual AAACE Conference


"Improving Social Engagement Through Adult Education"
Previously scheduled for Reno, NV; now being held virtually
October 27-30, 2020
The American Association for Adult and Continuing Education (AAACE) is dedicated to the belief that lifelong learning contributes to human fulfillment and positive social change. To that end, we provide leadership for the field of adult and continuing education by expanding opportunities for adult growth and development; unifying adult educators; fostering the development and dissemination of theory, research, information, and best practices; promoting identity and standards for the profession; and advocating relevant public policy and social change initiatives.
Conference Theme:
The current state of social engagement, public and private, in our society, requires urgent attention. An observation of the discourse around us results in three apparent issues. First, it is easy to see our dialogue as divisive wherein the voicing of personal opinions is seen as an attack rather than an opportunity for debate or dialogue. Second, the expression of differing values creates enemies of the "right" and "wrong" person rather than opportunities for mutual respect. Third, and perhaps the most important, is the general lack of discourse itself. Additionally, there can be many factors that have contributed to the decline in the nature of discourse in our lives and our society such as our deep perceptions of what is right and wrong with others' religion, politics, economic philosophy, and other ideologies. The question becomes, how can we avoid this and improve discourse through adult education?
The answer to this can be found in the answers of several questions. What is important for adult educators to "do" in the various adult education contexts, such communities of practice, the workplace, academia, and social media, that creates opportunities for improved discourse? How can those lessons be transferred into the community? How can adult education theories and practices be harnessed into a guiding force for constructive dialogue and mutual respect? How can adult education give a voice to the voiceless who have ceased engaging in discourse for fear of marginalization?
Call Closed
This call is no longer accepting submissions. For a list of calls that are currently open in ProposalSpace, check out our active calls page.