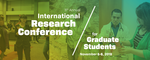 International Research Conference for Graduate Students
The Graduate College at Texas State University
Present Your Research
In order to be considered to present your paper or poster at the IRC, you must submit an abstract. The deadline to submit your abstract for the 2019 conference is September 27, 2019.
Abstract Requirements
Graduate students currently enrolled at Texas State and other universities may submit abstracts of original research on any field of study. Typically, the student submitting the abstract should be the first author (if working with coauthors). The first author must be a graduate student. However, faculty members may be a co-author.
Please provide relevant information in the abstract under each of the following sub-headings in no more than a total of 500 words:
title of the research paper
brief introduction to the topic/problem/research question in relation to existing research/theoretical framework
methodology or approach
results or preliminary results
impact of this research on the field
If you have co-authors, it is your responsibility to include the names and email addresses of all the authors and to inform them that the abstract has been submitted to the conference.
Availability Requirements
San Marcos Conference (Nov. 5-6)
Poster presenters must set up their poster by 4:30 p.m. on November 5 and to present their poster to faculty and students from 6–7:30 p.m.

Panel presenters must be available to present between 9 a.m. 3:30 p.m. on November 6, 2019.
Round Rock Conference (Nov. 7)
Poster presenters must set up their poster by 4 p.m. on November 7 and to present their poster to faculty and students from 5-6:30 p.m.
Abstracts will be published on The Graduate College website and you will have the option to opt in to allow your abstract to be published in the Texas State University Digital Repository. (visit our FAQ page for more information)
Top Paper Recognition
All abstracts submitted will be reviewed for the top paper recognition award in the following categories:
Top doctoral poster

Top master's poster

Top doctoral paper

Top master's paper
Winners will be announced at the keynote luncheon on Wednesday, November 6th.
Call Closed
This call is no longer accepting submissions. For a list of calls that are currently open in ProposalSpace, check out our active calls page.