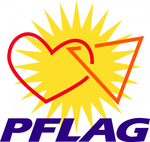 We Are the Change: The 2019 PFLAG Chapter Awards
PFLAG National
We Are The Change: The 2019 PFLAG National Convention provides us the opportunity to recognize and celebrate the accomplishments and effective innovations of PFLAG chapters as they provide support, education, and advocacy in their communities. We honor chapters doing outstanding work in these areas to show our appreciation for their extraordinary efforts. Here we have the opportunity to highlight effective practices, share information about successful campaigns, and start a conversation about how grassroots efforts may be adapted in communities everywhere.
PFLAG Chapter Awards are among the highest honors that network members can receive. Three chapters will be selected that represent some of the most effective and innovative work that is being done by chapter members to ensure that PFLAG's three part mission of support, education, and advocacy is being achieved in communities across the country.
This call is no longer accepting submissions.