Set Up
---
Our powerful, easy-to-use interface makes setup a snap.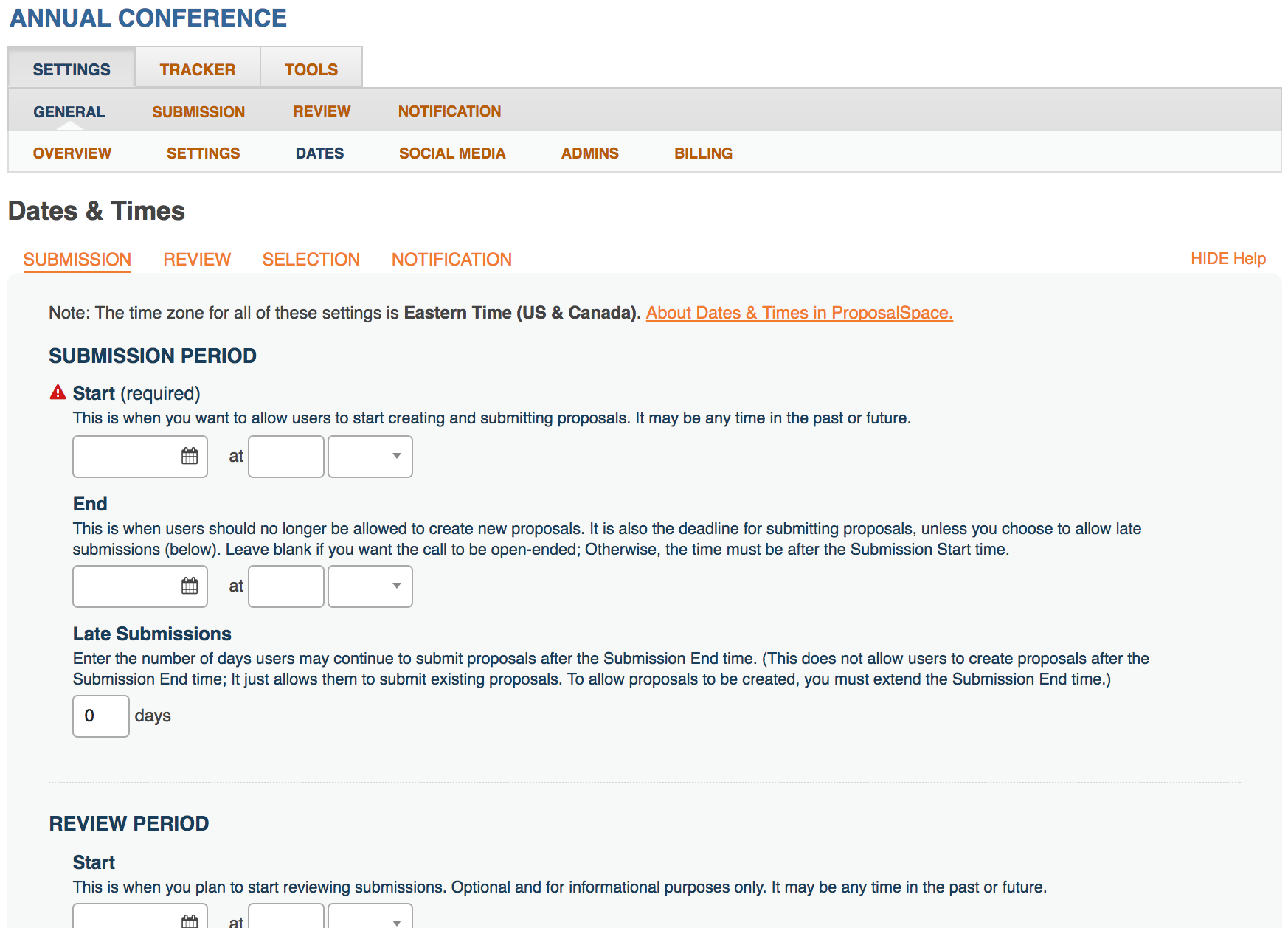 Control every detail, including dates, instructions, form questions, and more.
Design your own custom forms with our drag-and-drop form builder.
Make changes any time.
No limit on the number of admins.
Test
---
Make sure everything works like you want it to.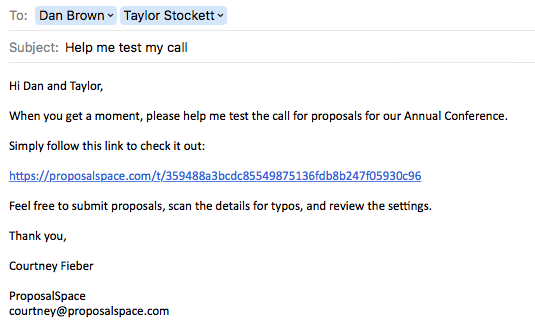 Test your call, as if it were live, for as long as you need.
Invite anyone to participate in the test process with just a link.
Enter anything as test data. It all gets discarded when the call is activated.
Collect
---
Stop juggling emails, file attachments, and spreadsheets.
Send authors directly to your call with a custom link.
Authors can save their work and return later.
Authors receive a confirmation email and printable submission receipt.
Monitor activity in real time.
Send reminders and other notices, and track their delivery.
Authors can check the status of their submissions any time.
Edit submissions directly or return them for editing and resubmission.
Review
---
Review coordination couldn't be easier.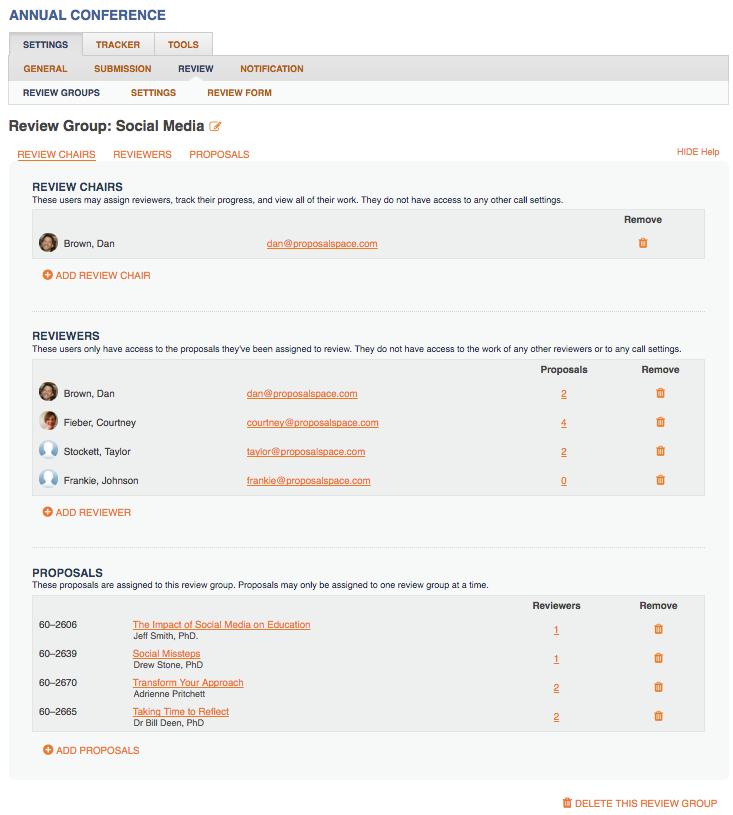 No limit on the number of review groups, review chairs or reviewers.
Pay only for submissions you approve for review.
Easily assign submissions to reviewers or reviewers to submissions.
Monitor review activity in real time.
Hide names from reviewers and/or review chairs for "blind" reviews.
Use the default review form or upgrade to a custom form.
Select
---
See at a glance who made the cut.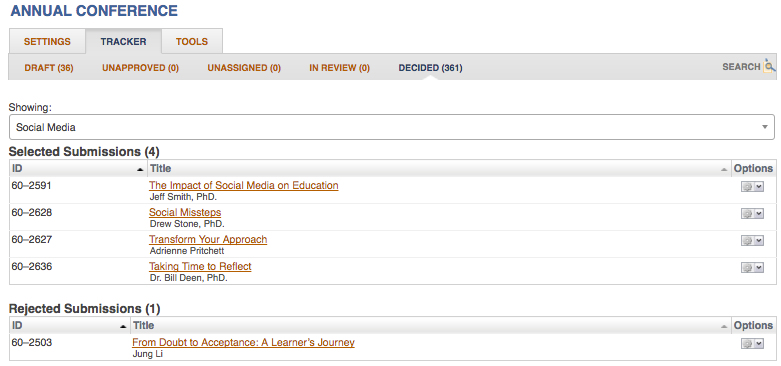 Rank submissions by average review score.
View individual reviewers' scores and comments.
Select or reject a submission with the click of a mouse.
Send acceptance notices via email and track their delivery.
Schedule
---
Avoid embarrassing scheduling conflicts.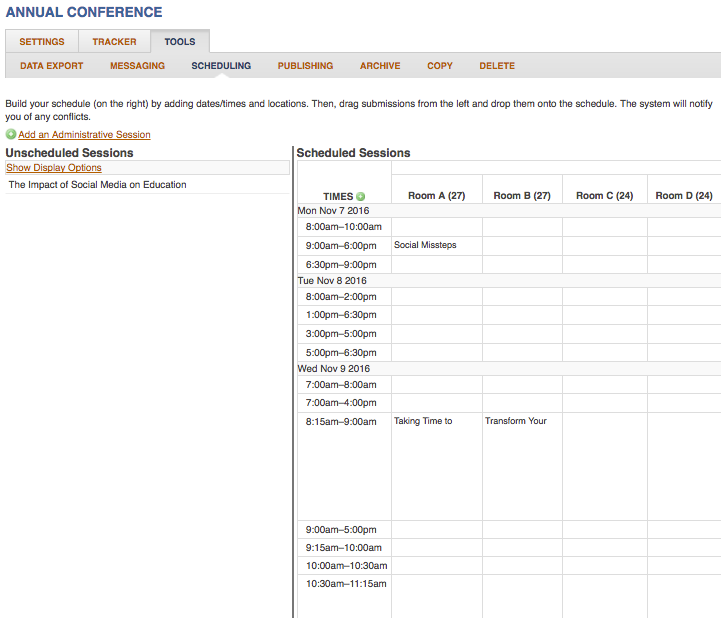 Enter session times and locations into our Standard Scheduling Module, or make planning a breeze with our optional Advanced Scheduling Module:

Create a custom scheduling grid, with unlimited dates/times and locations.
Drag and drop submissions onto the grid.
We warn you immediately of any conflicts.
Publish
---
Display session information on your own website.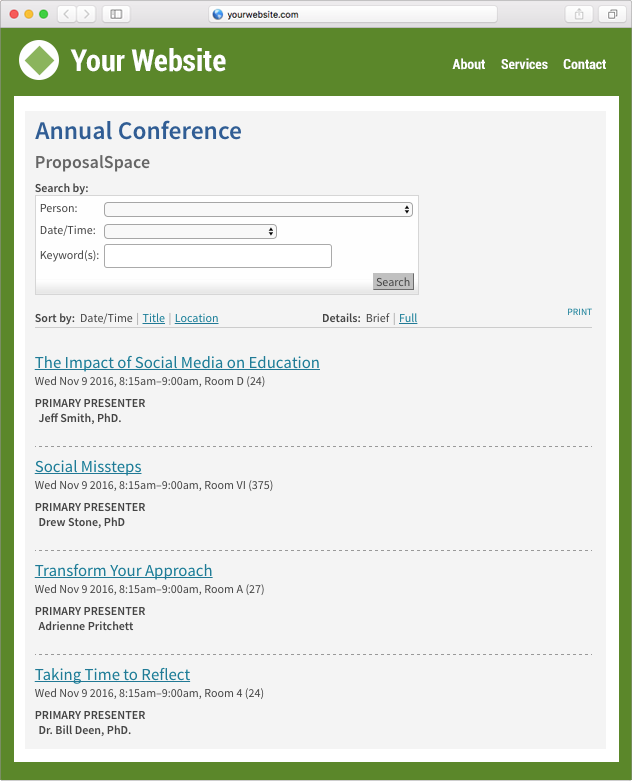 Changes in ProposalSpace are reflected in real time on your website.
You control the information displayed for each session.
Authors can upload handouts and other materials.
Search for sessions by date/time, person, location, keyword, or fields you select.
Sort sessions by title, date/time, or location.
Style the output to match your website's look and feel.
The optional Publishing Module does this and so much more!
Archive
---
Enjoy access to your call and all of its data indefinitely.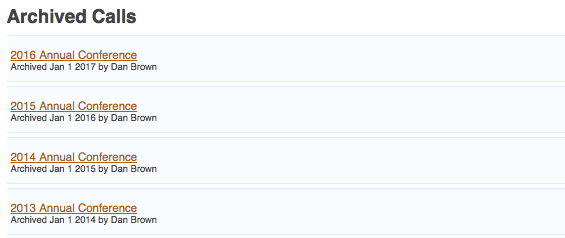 Store everything on our servers for as long as you like.
Save time by copying past calls to set up new ones.