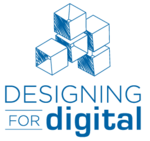 2019 Designing for Digital Call for Proposals
Designing for Digital
Thank you for your interest in submitting your work to the Designing for Digital 2019 Conference. We are currently seeking 20 minute short talks, 45 minute sessions, 90 minute seminars and 3 hour workshops for the 2019 conference in the following areas:
Tools & Methods

UX in Practice

Service & Physical Space Design

Trends, Emerging Issues, and the Future of UX

Leadership & Organizational Strategies
Proposal Evaluation: The committee will evaluate each proposal on the basis of subject matter (including, but not limited to, the issues listed in the topic descriptions), clarity, and timeliness.
Thank you for your interest in presenting at D4D!
This call is no longer accepting submissions.