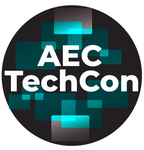 Architecture Engineering Construction Technology Conference (AEC TechCon)
Associated General Contractors (AGC) of Missouri, AGC of Missouri, and AEC TechCon
The AGC of Missouri is excited to announce the launch of the brand-new Architecture Engineering Construction Technology Conference (AEC TechCon) to be held May 1st-2nd at the St. Charles Convention Center in St. Charles, Missouri. This two-day conference is focused on AEC clients, practitioners, and partners' use of technology as digital transformation continues to drive innovation across the entire construction industry. The conference aims to target over 400+ attendees, from 'company leadership' to 'boots-on-the-ground personnel', where there is something for everyone in any role who has a passion for innovation through technology. AEC TechCon is the evolution of the former DCTC event held annually.

The conference will carry the theme "Innovation Across Construction" and looking for proposals in the general categories of :
Building Information Modeling (BIM) and Virtual Design & Construction (VDC)
Information Technology (IT) & IT Infrastructure
Innovation and Emerging Technologies
Workforce Development
Executive Sessions (C-Suite, Invitation Only)
Start a proposal
To start a proposal for this call, first sign in to your ProposalSpace account.
Don't have an account? Register for free.