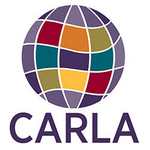 Theorizing Practice, Practicing Theory: 12th International Language Teacher Education Conference
Center for Advanced Research on Language Acquisition (CARLA), University of Minnesota
May 30–June 1, 2024
The Graduate Hotel
Minneapolis, MN
Conference Description
The 12th International Language Teacher Education Conference welcomes proposals for papers, symposia, discussion sessions, and posters on all aspects of the education and professional development of language teachers. Proposals must address an audience of language teacher educators (not language teachers) and may report on empirical research, theoretical and conceptual analyses, or practices in language teacher education. This year's conference theme highlights the deep connections within our field between theory and practice and how these are manifested in language teacher education research and professional development.
The mission of this unique conference is to address the education of teachers of all languages, at all instructional and institutional levels, and in all the national and international contexts in which this takes place, including: English as an additional/world language (e.g., ESL, EFL) instruction; world/modern/classical language teaching; bilingual education; immersion education; indigenous and minority language education; heritage language education; and the teaching of less commonly taught languages. The conference thus aims to bring together a range of teacher educators to discuss and share research, theory, and situated practices and to initiate and sustain meaningful professional dialogue across languages, levels, and settings on the topic of language teacher education.
The conference will focus on the following four broad themes (see webpage for more detail):
The Knowledge Base of Language Teacher Education
Social, Cultural, and Political Contexts of Language Teacher Education
Collaborations in Language Teacher Education
Processes of Language Teacher Education
Language Teacher Education

What is Language Teacher Education?
The field of language teacher education explores research, theory, and practice related to what and how teachers learn, the various contexts in which teacher learning takes place, and the educators who facilitate teacher learning. Language teacher education, therefore, is not about how students learn or how teachers facilitate student learning. Gaining a deeper understanding of topics in language teacher education leads to more robust research and informs practice in teacher preparation programs and language classrooms.
Who are Language Teacher Educators?
Many people carry out language teacher education, including college of education faculty, directors of language programs, curriculum coordinators, state and district supervisors, cooperating teachers, and practitioners involved in professional development efforts. Together, this diverse group of language teacher educators contributes to meaningful professional dialogue across languages, levels, and settings.

Conference Sponsors
This conference is sponsored by the Center for Advanced Research on Language Acquisition (CARLA) at the University of Minnesota in partnership with the Center for Educational Resources in Culture, Language, and Literacy (CERCLL) at the University of Arizona; and Professionals in Education Advancing Research and Language Learning (PEARLL) at the University of Maryland.
For full details of the call for proposals and sample rated submissions, please see the conference website.
Start a proposal
To start a proposal for this call, first sign in to your ProposalSpace account.
Don't have an account? Register for free.