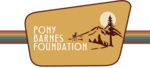 2023 Grant Funding - Pony Barnes Foundation
Pony Barnes Foundation
Pony Barnes Foundation Funding - Apply For Funding Today
Pony Barnes Foundation is pleased to announce the opening of the application period for grant funding. Pony Barnes Foundation is a 501c3 private foundation dedicated to supporting camp experiences that promote belonging for LGBTQ+ youth and their families.

Funding is available through the generosity of our late co-founder, Virginia 'Pony' Barnes (1924 - 2020), as well as through individual donations from our PBF community. We provide funding to organizations to achieve measurable impact in providing camp experiences that improve the lives of LGBTQ+ youth and their families.
Grants are available through a competitive process. Details are below. All proposals for grants that fall within the requirements provided will be considered.


Application Process. Pony Barnes Foundation will fund proposals that fall within one of the grant program areas: The Dr. Barnes Learning & Leadership Fund and The Rainbow Family Camp Fund. Each funding opportunity possesses its own eligibility & requirements. See below for details. Applicants will be expected to provide the following by September 22nd. 
Completed application

In addition to program details, application must include: Budget Outline & Timeline of Key Project Milestones 

IRS determination letter indicating current 501c3 nonprofit status

Special Note: Grant categories have changed from last year. Read descriptions at ponybarnesfoundation.org/grants for more information.
General Eligibility for Applicant Organizations
Eligible Organizations Must Be:
Based within California

An established camp with 3+ years in operation

A registered 501c3 organization in good standing across state and federal entities

Note: Applicants must ensure they are in good standing with California's Attorney General's Office, Secretary of State, Franchise Tax Board, and the IRS. Applications who are out of compliance with any of these entities will not be considered.

Aligned with PBF's organizational values
Timeline. The 2023 grant application period begins July 24th and applications are due no later than September 22nd. Funding will be distributed to successful applicants during December 2023.
Application Period Begins –

Jul 24, 2023

Applications Due –

Sep 22, 2023

Grant Proposal Review – October - November

Award Letters and Notifications – November

Funds Released – Early December

Quarterly Progress Reports Due – Every three months of grant award until close, subject to grant agreement

Final Progress Report Due – Upon conclusion of the grant award, subject to the grant agreement




Selection Committee: Proposals will be selected by a committee of internal and external stakeholders.  All reviewers will have a chance to recuse themselves from the selection process if there is a conflict of interest. 
Recipients: Organizations will be notified of any decision via email. All funding decisions are final and will be awarded before December 31st, 2023. If an organization is approved, grant checks will be mailed directly to the recipient's address.
Should organizations receive funding, they will be expected to provide quarterly updates to Pony Barnes Foundation outlining financial overview, program implementation updates (key milestones achieved, etc.), outcomes, and more. Reporting details will be provided to recipients in tandem with their award. PBF will also list grant recipients via the PBF website, newsletter, and other forms of organization communication. 
Start a proposal
To start a proposal for this call, first sign in to your ProposalSpace account.
Don't have an account? Register for free.