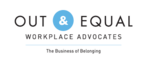 2023 Out & Equal Outies: New Employee Resource Group Chapter of the Year Nominations
Out & Equal Workplace Advocates
The New Employee Resource Group (ERG) Chapter of the Year Outie Award recognizes a chapter that has been established within the last two years (the organization ERG can have existed longer than that but the chapter must be new) and has made a bold impact at their company, federal agency, or nonprofit since launch.
Start a proposal
To start a proposal for this call, first sign in to your ProposalSpace account.
Don't have an account? Register for free.