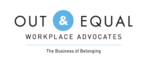 2023 Out & Equal Outies: Workplace Excellence Nominations
Out & Equal Workplace Advocates
The most prestigious of the Outie Awards, the Workplace Excellence Outie Award recognizes an employer that demonstrates a historic and ongoing commitment to pursuing and implementing workplace equality for LGBTQ+ employees. This employer not only raises the bar and serves as an example for others, but also supports other organizations' DEI efforts through active knowledge sharing and peer organization mentoring.
Start a proposal
To start a proposal for this call, first sign in to your ProposalSpace account.
Don't have an account? Register for free.