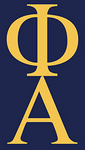 Phi Alpha Scholarships 2023
Phi Alpha Honor Society for Social Work
Phi Alpha Honor Society for Social Work offers two scholarships annually. These are offered only to members of Phi Alpha. 
Patty Gibbs Sahlberg BSW Scholarship: The Association of Baccalaureate Social Work Progam Directors (BPD) and Phi Alpha Honor Society have partnered to deliver scholarship programs for undergraduate Phi Alpha members. 

MSW Scholarship Program: Phi Alpha Honor Society established a scholarship program for graduate student Phi Alpha members. 
For each program, each year, three scholarships will be awarded. They are (1st) $3,000, (2nd) $2,000, and (3rd) $1,000. Awards are intended to help student with expenses related to their education. The focus on the application is the student's service, scholarship, and leadership. The first place selection will be sponsored to present as part of the conference program at the BPD Annual Conference each spring. Students must be members of Phi Alpha to apply. Winning submissions will be posted on the Phi Alpha website. Applications are due May 31st. Awards are announced by September 1st. 
Start a scholarship application
To start a scholarship application for this call, first sign in to your ProposalSpace account.
Don't have an account? Register for free.