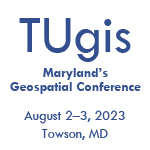 2023 TUgis Call For Submissions
Towson University
The deadline to submit a proposal is April 24, 2023.

TUgis offers practitioners and technologists multiple ways to present their work to large audiences eager to participate. Presentations are accepted in the following categories:
Posters are large-format paper printouts of a map or presentation.
Presentations are 20-minute illustrated talks followed by 5 minutes of audience questions and discussions. 
Lightning Talks are 7-minute presentations in a fast-moving, exciting format. Each presentation can include a static poster, live demo, or utilize technology. Presenters are required to bring their own equipment. Internet access is available.
Panels are organized discussions of three or more experts in front of a live audience.
NOTE: All presentations, lightning talks, and panels will take place in smart rooms equipped with Microsoft Windows, MS Office, Internet access, LCD Projector with a minimum of 1024×768 resolution, and 16x9 screens.
Questions? We have answers!
Please feel free to contact us at any time: Martin Roberge, chairs of the Programming Committee at mroberge@towson.edu
Call Closed
This call is no longer accepting submissions. For a list of calls that are currently open in ProposalSpace, check out our active calls page.