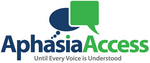 2023 Aphasia Access Leadership Summit Call for Presentations
AphasiaAccess
This is the portal to submit proposed talks for the fifth Aphasia Access Leadership Summit which will be held, beginning March 23, 2023, in Raleigh, North Carolina.
Start a proposal
To start a proposal for this call, first sign in to your ProposalSpace account.
Don't have an account? Register for free.