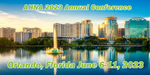 2023 Conference Research Paper
American Holistic Nurses Association (AHNA)
AHNA's 43rd Annual Conference, June 6 - June 11, 2023 in Orlando, Florida
Holistic Nurses in Action
Proposals relevant to holistic nursing are requested in the broad categories of practice, research, education, praxis, personal & professional development, aesthetics, nurse coaching, and advanced practice. Submissions are anticipated to reflect the conference purpose & theme.
Purpose:
The purpose of this conference is to inspire the participants to develop their visions of holistic wellness for individuals, groups, and communities and increase their ability to take evidence-informed holistic nursing action. Through listening, active engagement, peer communication, and self-reflection, participants will explore ways they can take action to use the Holistic Nursing Core Values and Scope and Standards of Practice in their lives personally and professionally.
Theme
Holistic Nurses in Action

This conference will explore ways holistic nurses can move forward into action and explore the work of changing our healthcare system from a medical model to a more holistic one.
Holistic Nursing Core Values
Core Value 1. Holistic Philosophies, Theories, and Ethics
Core Value 2. Holistic Nurse Self-Reflection, Self-Development and Self-Care
Core Value 3. Holistic Caring Process
Core Value 4. Holistic Communication, Therapeutic Relationship, Healing Environments, and Cultural Care
Core Value 5. Holistic Education and Research
Learning Outcomes:
Explore how rising to the challenge of Holistic Nursing in Action can assist us in finding new levels of creativity, self-expression, and vitality that we can apply in various practice settings. (CV 2 & 3)

Define how holistic nursing education, research, theory, ethics, and practice guide and support people to nurture themselves, each other, and the environment holistically. (CV 1, 3, 4 & 5)

Critique how applying our holistic values, self-care, self-development, and reflection can create more healing environments. (CV 2)

Discuss ways to use the holistic caring process and therapeutic communication to help individuals, groups, and communities improve their holistic health and well-being. (CV 3 & 4)

Share examples of how using holistic nursing research and theories can promote healing and well-being. (CV 1 & 5)

Identify opportunities for holistic nurses to take action in improving nursing education, research, practice, advocacy, and healthcare policy, including advancing social and environmental justice. (CV 1, 4 & 5)

Describe creative approaches for holistic nurses to facilitate interprofessional, interracial, intergender, and intercultural learning and collaboration. (CV 4)

Describe how one's personal holistic self can be an instrument of growth, healing, and renewal for individuals, groups, and communities. (CV 3 & 4)
Research paper presentations are allotted a 15-20 minute segment of a 1-1.5 hour research presentation session.  
Start a proposal
To start a proposal for this call, first sign in to your ProposalSpace account.
Don't have an account? Register for free.