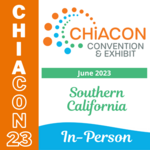 CHIACON23: Call for Proposals
California Health Information Association (CHIA)
The California Health Information Association Convention & Exhibit (CHIACON) is California's premier event for today's health information (HI) professionals. CHIACON's three days of robust education offerings include a wide variety of relevant topics, from best practices to understanding the impact of legislative changes, to learning how innovative products and technology can positively affect your workplace.  CHIACON's networking opportunities allow a broad spectrum of HI professionals to connect in a fun and exciting programs that embrace entry-level to senior management and partners in related HI fields. CHIACON is held annually in June and includes more than 30 educational sessions. Join us at CHIACON23, where our members elevate their professional value through LEAD-leadership, education, advocacy and discovery. CHIA seeks dynamic thought-leaders to present topics describing innovative solutions addressing today's challenges for health information professionals. 
CHIACON23 is scheduled to take place in-person June 11-14, 2023, at the beautiful Westin Rancho Mirage Golf Resort & Spa in Rancho Mirage, California. We invite you to submit a proposal to our health information community that promotes Empowering Health Information Professionals to Impact Health through Trusted Information.
Keynote and General Sessions
Topics for a broader base of interest and application from thought leaders that will inspire and empower the health information community. The audience range is 200 - 500 participants. The length of the presentation is 60 - 75 minutes.
Learning Tracks
Focused program on a specific topic, application, etc. Tracks are organized into sessions centered around relevant leading-edge topics so attendees can customize their learning experience. The audience range is 75 - 100 participants. The length of the presentation is 50 minutes.
The CHIA Convention Committee will review all submissions and consider content addressing best practices/lessons learned, case studies, innovative and actionable ideas addressing today's challenges, and leadership solutions. The Committee looks forward to reviewing all proposals and developing the program for CHIACON23. 
How to Submit a Proposal - due October 24, 2022
Login or create a ProposalSpace account if you don't already have one.

Each presenter is required to have an account.

 

For first-time users, please take the time to fill out the profile information. This will save you time and steps later.

From the Dashboard, select Proposals: Start a new proposal and search for: CHIACON23 Call for Proposals

Complete the form. You can save it as a draft and return it to edit until submission. 

Up to four proposals can be submitted per individual; a maximum of two proposals will be selected for the program
Sharing knowledge and experiences with others is invaluable. Submit a CHIACON23 Proposal today. 
Learn more about CHIACON23 on the CHIACON23 Convention & Exhibit webpage
Start a proposal
To start a proposal for this call, first sign in to your ProposalSpace account.
Don't have an account? Register for free.