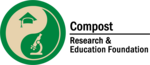 CREF COMPOST2023 Call for Researchers
Compost Research and Education Foundation and US Composting Council
CALL FOR RESEARCHERS (If you are looking for the GENERAL CALL FOR SPEAKERS AND POSTERS and not the one for the research track click HERE)
The COMPOST RESEARCH & EDUCATION FOUNDATION is organizing a full research track at the US Composting Council's Annual Conference.  This track is open to anyone who wants to present their research but preference will be given to peer-reviewed research papers.
The USCC's Annual Conference and Tradeshow is the premiere professional meeting for composting, organics recycling, and related topics.  It will be held January 24-27, 2023 in Ontario, CA
Submission Due Date:   July 1, 2022 (you must start by midnight EDT.  You have until July 5 to finalize)
Abstracts are encouraged on topics in each of these areas.  Others will be considered
Climate change and carbon storage in soils
Water conservation using compost
Testing methods and protocols for feedstocks & finished compost
Compost use in green infrastructure
Disease suppression from compost use
Facility construction issues (ground water protection, pad construction, bio-security, state regulations)
Nutrient content of storm water from compost facilities
PFAS in compost or storm water from compost facilities
Using compost on agricultural crops to improve yield
Compost air emissions: testing, management and permitting
Compost process research regarding food waste
The impact and fate of plastic contamination in compost feedstocks
Pathogen studies addressing fecal coliform regulations
Persistent herbicide detection, fate or remediation
POSTERS
Authors may choose to submit a poster instead of speaking.  Posters are 4'-6' wide and 3' high.  They will be displayed around the perimeter of the exhibit hall.  Posters should be self-sufficient, but authors are encouraged to be by their posters during the main break times.  Speaking submissions that rank high but don't fit in the program will be offered the opportunity to provide a poster. 
Why present at COMPOST2023?
The Conference routinely attracts over 1000 attendees working directly in the fields of compost manufacturing and organics recycling. This guarantees speakers outstanding professional exposure as well as great networking opportunities. Lead speaker for each talk receives the discounted speaker rate of 50% off.
Presenters can expect to have 20 minutes for their presentation, plus a few minutes for Q & A. Proposed presentations should include information directly relevant to compost manufacturing, using compost, and related professions. 
Abstracts for talks should be clear and concise and be no more than 300 words.  A review committee will rate all abstracts.  Ratings are based on content, clarity, format and USCC membership.
Accepted abstracts will be available to view on-line prior to and at the conference.
Call Closed
This call is no longer accepting submissions. For a list of calls that are currently open in ProposalSpace, check out our active calls page.