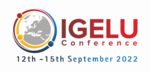 IGeLU 2022 Hybrid Conference and Developers' Day 12 -15th September, 2022
International Group of Ex Libris Users
We invite you to submit your presentation proposals for the 17th IGeLU Conference Cardiff, 12th - 15th September 2022 (deadline: Friday June 17, 2022). Presentations for Developers' Day on 12th September can also be submitted here.
Start a proposal
To start a proposal for this call, first sign in to your ProposalSpace account.
Don't have an account? Register for free.