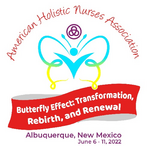 2022 Conference Non-Research Poster
American Holistic Nurses Association (AHNA)
AHNA's 42nd Annual Conference, June 6 - June 11, 2022 in Albuquerque, New Mexico
Butterfly Effect: Transformation, Rebirth, and Renewal
Proposals relevant to holistic nursing are requested in the broad categories of practice, research, education, praxis, personal & professional development, aesthetics, nurse coaching, and advanced practice. Submissions are anticipated to reflect the conference purpose & theme.
Purpose:
The purpose of this conference is to empower the participants to promote and transform their visions of holistic nursing through self-reflection and holistic communication. This is significant because it will assist in contributing to peace, harmony, balance, rebirth, renewal, caring, and healing for ourselves, our communities, and our planet.
Theme
Butterfly Effect: Transformation, Rebirth, and Renewal

This conference will explore ways holistic nurses integrate their Core Values of caring and the compassionate self to provide rich healing traditions restoring human connectedness into today's contemporary health care. Using self-reflection and compassion along with holistic communication, nurses and other integrative practitioners can restore our human connectedness through the sharing of traditional practices, successful integrative programs, nursing education, research, and coaching. Self-reflection is significant because it will assist in contributing to peace, harmony, balance, rebirth, renewal, caring, and healing for ourselves, our communities, and our planet.
Holistic Nursing Core Values
Core Value 1. Holistic Philosophies, Theories, and Ethics
Core Value 2. Holistic Nurse Self-Reflection, Self-Development and Self-Care
Core Value 3. Holistic Caring Process
Core Value 4. Holistic Communication, Therapeutic Relationship, Healing Environments, and Cultural Care
Core Value 5. Holistic Education and Research
Learning Outcomes:
Define how sound ethical nursing research and philosophies supports and guides cultures into being more holistic and nurturing of each other and the environment. (CV #1)

Critique how the application of our holistic values and beliefs creates a more healing environment globally through our self-care and reflection. (CV #2)

Discuss ways that rebirthing of our holistic values through therapeutic communication (appreciative inquiry, motivational interviewing, nurse coaching, and presence) and the holistic caring process assists our clients in promoting their health and well-being. (CV #3 & #4)

Explain how the transformation of holistic nursing research and theories and their application promotes healing and well-being. (CV #5)

Analyze opportunities for holistic nurses to lead the change/transformation by integrating principles of social justice in nursing and healthcare policy needed in today's healthcare environment.

Interpret how rising to the challenge of holistic transformation and reawakening assists in finding creativity, self-expression, and vitality in our practice setting, giving it meaning in the existence of all individuals, cultures, and our environment through holistic cultural diversity.

Describe creative approaches to facilitate interprofessional, inter-racial collaboration and mentorship in holistic nursing.

Describe how the transformation of the holistic self can be an instrument of change and renewal for individuals, cultures, and environments in developing a healthy global society.
A Non-Research Poster provides a summary, in poster format, of a completed project or activity that is relevant to holistic nursing and will enable the learner to acquire or improve knowledge or skills beyond basic knowledge and enhance professional development or performance as a nurse.
Posters will be displayed for the duration of the conference with two, one-hour presenter Q/A sessions required.
Call Closed
This call is no longer accepting submissions. For a list of calls that are currently open in ProposalSpace, check out our active calls page.