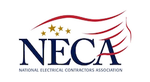 Call for Proposals for NECA's 2021 Annual Convention | October 9-12 | Nashville, Tennessee
National Electrical Contractors Association (NECA)
Each year the NECA Annual Convention provides members with the tools needed to keep their companies on top with cutting-edge educational programs. We are seeking proposals on a wide-range of topics in the electrical contracting industry April 1, 2021 extended until April 7, 2021!
New for 2021, the NECA Convention will be delivered in a hybrid approach with educational sessions broadcast to a remote audience as a mix of live and time delayed programming.
Topics and content should be appropriate for the typical 50-minute presentation duration. Additionally, NECA is looking for a mix of introductions to broad topics and in-depth discussions with a narrow focus. All presentations should focus on key issues in the industry, engage participants, feature audio visual elements, and provide participants with a measurable takeaway from the program. Participants should walk away from each course with a new skill or knowledge that they can use to move their company forward. Sessions that are solely designed to queue up a product, service, or another educational course will not be permitted.
Across all sessions, preference will be given to sessions that include a NECA member contractor as a member of the presentation team.
Format and Presentation Types
To engage a large number of participants at varying levels of their career, there are different formats to our educational sessions at the 2021 NECA Annual Convention and Trade Show. You must select only one presentation type for each submission.
NECA Convention Education Sessions
Focusing on hot topics and key issues in the electrical construction industry, these presentations will cover a broad range of topics from communications to labor relations to safety. All presentations will be held within a two-hour block on the mornings of October 10-12 and will either be presented as a 50-minute presentation that is immediately repeated or as a one-time 110-minute presentation.
NECA Show Education Sessions
NECA offers a wide variety of education on the trade show floor. All sessions will be held during show hours on October 10, 11, and 12. Presentations will be centered around three different rooms on the show floor:
Leadership
The NECA Show has a wide audience of attendees at all different levels of their career and these 50-minute workshops focusing on leadership topics will address their growth and leadership path.
Technology
These workshops will discuss the cutting-edge technologies NECA contractors need to stay ahead. Presentations should focus on industry needs, innovation and the future of electrical construction.
Construction Solutions
These sessions will examine common problems that electrical contractors face and the solutions—whether human or process—that others used to overcome them.
NECA Show exhibitors are encouraged to apply for the Construction Solutions and Technology workshops, with preference given to submissions that include NECA contractors and/or feature multiple companies.
Proposal Areas
We are interested in receiving proposals on the below areas:
Convention Education Proposal Areas
Business best practices
Business etiquette
Change orders
Communication best practices
Conflict management
Construction law
Construction scheduling
Contract term negotiations
Diversity, Equity and Inclusion
Documentation
Emerging markets
Financial planning and accounting
How CW/CE programs have helped get work
How to save money with preplanning
HR/Legal topics for small companies
Internal financial controls
Internet security
Labor savings and efficiency
Managing workplace safety
Mentoring
Payment collection
Pension benefit plans
Personality differences in the workplace
Prefabrication for small companies
Productivity
Recruiting/attracting new talent
Risk identification and mitigation
Setting up internship programs
Social media & websites
Strategic planning for your business
Succession planning
Suicide prevention
Time management
Vehicle and fleet management
Working with construction managers
Leadership Workshop Proposal Areas
Communication best practices
Conflict management
Crisis communications
Delegation
Mentoring
Personality differences in the workplace
Productivity
Progressive discipline
Recruiting/attracting new talent
Servant leadership
Setting up internship programs
Strategic planning for your business
Succession planning
Time management
Technology Workshop Proposal Areas
Building automation controls
Building information modeling
Construction scheduling
Energized work training
Energy efficiency
Energy storage
Ergonomics
How technology is changing jobs
How to save money with preplanning
IT technology (IoT)
Lean Construction
Lighting controls
Material/supply chain management
Power over ethernet (PoE)
Prefabrication
Prefabrication for small companies
Software that all business need
Use of technology in the field
Vehicle and fleet management
Construction Solutions Workshop Proposal Areas
Building information modeling
Business best practices
Change orders
Contract term negotiations
Delays
Documentation
Early warning signs that you're on a bad job
Energized work training
Ergonomics
How CW/CE programs have helped get work
How to save money with preplanning
Labor savings and efficiency
Lean Construction
Lesson learned in electrical construction
Material/supply chain management
Partnering
Prefabrication
Prefabrication for small companies
Risk identification and mitigation
Vehicle and fleet management
Working with construction managers
Important Dates
April 1, 2021 - Responses to Call for Proposals due
May 26, 2021 - Speakers notified of selection
October 9-12, 2021 - NECA Convention in Nashville, TN
Call Closed
This call is no longer accepting submissions. For a list of calls that are currently open in ProposalSpace, check out our active calls page.