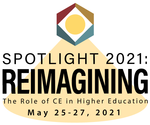 CAUCE 2021: May 25 - 27, 2021
Canadian Association for University Continuing Education
The annual CAUCE conference brings professionals together, across roles, generations, and geography to celebrate our respective contributions, share our challenges, and to bring greater awareness to the contributions of our profession on a national scale. For 2021, we have the challenge of connecting in new ways due to restrictions related to COVID-19. We will aim to leverage this opportunity to engage with the CAUCE community in new ways and to re-imagine the CAUCE conference.
The CAUCE conference will be held virtually from May 25 to 27, 2021.
Call Closed
This call is no longer accepting submissions. For a list of calls that are currently open in ProposalSpace, check out our active calls page.