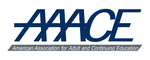 AAACE 2021 Annual Conference
American Association for Adult and Continuing Education (AAACE)
70th Annual AAACE Conference
Moving the Needle:
Digital Divide, Social Justice, and Adult Education
Sandestin Golf and Beach Resort | Miramar Beach, Florida
October 5-8, 2021

The American Association for Adult and Continuing Education (AAACE) is dedicated to the belief that lifelong learning contributes to human fulfillment and positive social change. To that end, we provide leadership for the field of adult and continuing education by expanding opportunities for adult growth and development; unifying adult educators; fostering the development and dissemination of theory, research, information, and best practices; promoting identity and standards for the profession; and advocating relevant public policy and social change initiatives.
Conference Theme:
Moving the Needle: Digital Divide, Social Justice, and Adult Education
During the 2020 year we were confronted as a society, as adult educators, and as leaders in our communities with a CoVid-19 Pandemic and a series of "isms" that centered around the racial, gender, economic, political, social injustices, inequities and disparities which exist and persist within the United States and beyond. Even though it was clear that some advances have been made, the class ceiling has been fractured but not broken, few have achieved economic or political parity, and all to many remain marginalized, disenfranchised or voiceless, and lack access to available the technology, economic and political levers that should lead to positive systemic and structural changes being made within our society.
As the media, educators, community activists and others have pointed out, the digital divide, and social injustices persist. So, the challenge for us as adult educators are to, not only examine but demonstrate how we can effectuate change for those we serve and teach. We must challenge and reframe the problem and identify the tools and resources available to generate possibilities that have, are, or will structurally and systemically improve the lives of those who have been disenfranchised, marginalized or been excluded from the resources that will aid their endeavors. In so doing, we begin to move the needle, so that we all as a society benefit – that is, when justice and equity are achieved.
Throughout the 2021 conference, let us challenge each other to not only examine the digital divide, social justice, and adult education through the lens of race, gender, class, sexual orientation, but to Move the Needle towards systemic and structural social change. The following lens and questions are provided as a guide for this conference:
Historical/Traditional - What role have you or will AAACE play in moving the needle forward within the field of adult education, our practices, ourselves and our communities?

Practice/Scholarship - How will we or have we as adult educators been engaged with or pursued social justice practices to improve the lived experiences of those who are or have been marginalized, disenfranchised or the voiceless?

Technological/Digital Divide - How have we or can we use technology to decrease the inequities within our society?

Equity/Social Justice - In order to move the needle forward in our workplaces or spaces, what opportunities, careers or positions should we pursue, that will not only challenge the status quo, but will foster social justice for the disenfranchised, marginalized, voiceless and the invisible?
Call Closed
This call is no longer accepting submissions. For a list of calls that are currently open in ProposalSpace, check out our active calls page.