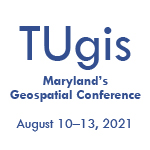 2021 TUgis Call For Submissions
Towson University
TUgis is Maryland's Geospatial Conference, connecting the GIS community with new ideas, trends, and collaborations. In light of the COVID-19 pandemic, the 2021 TUgis Conference is a multi-day, virtual event. Presentations are accepted in the following categories:
Online Presentations
Online presentations are 15-minutes long. Presentations are grouped according to topic and run by a moderator. Each presentation ends with an interactive Q&A session.
Exhibitor Showcase
The Exhibitor Showcase is a 15-minute session devoted entirely to TUgis vendors. Exhibitors use this time to meet their business goals: moderate sessions, meet with customers, give demonstrations, or run product Q&A sessions. A common format is a 15-minute presentation followed by a Q&A session in the Virtual Exhibit Hall.
NOTE: All sessions are delivered through a comprehensive event platform. Each session is hosted by a moderator who introduces presenters and keeps time. The audience can view the session, ask questions, and make comments using a chat feature. However, their microphone and video will be muted. Presenters must ensure access to a "hard-line" internet connection, using an ethernet cable, during the conference.
The deadline to submit a proposal is April 26, 2021, at 11:59 pm (ET)
Questions? We have answers.
Contact Martin Roberge, chair of the TUgis Programming Committee, at mroberge@towson.edu with any questions.
Start an abstract
To start an abstract for this call, first sign in to your ProposalSpace account.
Don't have an account? Register for free.