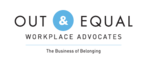 Out & Equal Outies: New ERG Chapter of the Year Award Nominations
Out & Equal Workplace Advocates
This award recognizes an Employee Resource Group (ERG) chapter that has been established within the last two years (the organization ERG can have existed longer than that but the chapter must be new). This award recognizes a new chapter that has made a bold impact at their company, federal agency, or non-profit in their first few years.
Start a nomination
To start a nomination for this call, sign in to your ProposalSpace account.
Don't have an account? Register for free.