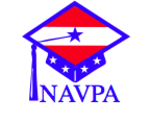 2021 Call for Proposals: NAVPA Virtual Presentation on Institution Best Practices
NAVPA
Approved Institutions will have the opportunity to set up a virtual "booth" or "exhibit" highlighting their best student veteran practices and/or offer a virtual presentation of their schools veteran services to be showcased throughout the 2021 National Association of Veterans' Program Administrators/ NAVPA Annual Training Conference (Conference Dates 10/25/21- 10/29/21).
Start a proposal
To start a proposal for this call, first sign in to your ProposalSpace account.
Don't have an account? Register for free.