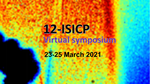 12th International Symposium on Special Topics in Chemical Propulsion & Energetic Materials
ISICP12
The 12th International Symposium on Special Topics in Chemical Propulsion & Energetic Materials (ISICP) will once more host leading global experts; it builds on the earlier meetings that started in 1988. The event will be held in Santander, Spain 22-25 March 2021.
Start an abstract
To start an abstract for this call, sign in to your ProposalSpace account.
Don't have an account? Register for free.