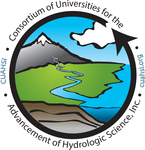 National Water Center Innovators Program - Summer Institute of 2020
Consortium of Universities for the Advancement of Hydrologic Science, Inc. (CUAHSI)
We are accepting student applications for the 2020 NWC Summer Institute until

11:59 pm ET on January 13, 2020.

Complete applications must be received by this deadline for consideration.
The Consortium of Universities for the Advancement of Hydrologic Science, Inc. (CUAHSI) is soliciting applications from students who wish to participate in the 2020 National Water Center (NWC) Summer Institute under the auspices of the NWC's Innovators Program. The Summer Institute will take place at the University of Alabama and the National Water Center in Tuscaloosa, AL from June 8 - July 24, 2020. Student research fellows will collaborate intensively for seven weeks to work on projects designed to contribute to the NWC goals of enhancing water-related products and decision-support services across the country. To facilitate this process, project themes have been defined in advance. The Summer Institute will be led by faculty theme leads and daily oversight will be provided by student course coordinators.
Students participating in the Summer Institute will be grouped into teams organized around projects defined jointly by the theme leaders and project teams on pre-selected topics. While there may be some overlap with the students' individual MS/PhD research projects, the expectation is that the work and research done during the Summer Institute will be a seperate, self-contained project.
The 2020 Summer Institute will explore projects related to the following themes:
Examining coupled inland-coastal hydraulics
Scaling hydrologic and hydraulic models from small basins to regional watersheds
Utilizing hydroinformatics to address flood inundation
Student Eligibility
Applications will be accepted from current and incoming graduate students enrolled in a university program in the US. Applicants who are not US citizens will need to report their visa status. Due to security regulations, all accepted applicant's involvement in the SI will be contingent upon a foreign national visitor approval process. Upon acceptance into the program all participants will need to provide additional security clearance documents and fingerprints, and must be cleared by NOAA Security.

Additionally, students must be able to reside on-site at the University of Alabama for the entire program. Students should also expect to provide their own laptop computer. If this is a limiting factor, we may be able to work with you and provide a device to borrow during the SI.
Student Award
Students selected to participate in the Summer Institute will receive reimbursement of travel expenses to and from Tuscaloosa, and a meal stipend while attending the program. Dorm-style lodging will be provided at the University of Alabama. Students will have their own bedrooms, but will share a living suite. Due to the scale of the program, CUAHSI is unable to accommodate requests for single occupancy suites or housing for spouses or children.
We encourage involvement from the students' advisors, and as such, CUAHSI will support travel expenses for advisors to make a trip to attend the SI Capstone event on July 23, 2020.
Application Instructions
Student applications will be evaluated based on their background, knowledge, training, and experience, as well as the degree to which they have the skills and the abilities to work in a fast-paced, collaborative environment. While there may be some overlap with the students' individual MS/PhD research projects, the expectation is that the work and research done during the Summer Institute will be a separate, publishable project.
The following components are required for a complete application:
Application Form (submitted online)
Statement of interest. A brief statement which explains why you would like to participate in the SI and how the SI will contribute to your career development. The Statement of Interest should be brief – one to two paragraphs is sufficient, not to exceed one page.
CV. A one to two page CV detailing your education and research.
Transcript. Please upload a recent copy of your transcript. Transcript may be unofficial (not sealed by registrar).
Letter of Endorsement from your faculty advisor. The letter should endorse the student's participation in the Summer Institute and explain why the student is qualified to participate in the SI and how the experience will benefit the student. The letter should be signed by the student's advisor and uploaded as a pdf file.
Additional program information, including information on program themes, past program highlights, and schedule, can be found here. For questions regarding the application process, please contact Julia Masterman, jmasterman@cuahsi.org.
Call Closed
This call is no longer accepting submissions. For a list of calls that are currently open in ProposalSpace, check out our active calls page.