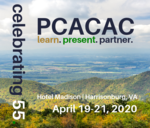 2020 Conference Call for Session Proposals
PCACAC
LOCATION
PCACAC's 55th Annual Conference will be held at the Hotel Madison in Harrisonburg, VA.
SESSIONS
Proposals can be for a full 75-minute session or for a 7-10 minute 'Anchor Talk'. Presentations will be on Sunday through Tuesday, April 19-21, 2020. PCACAC cannot guarantee a specific date or time of any session presentation.
Organizations wishing to present a conference session must have at least one PCACAC high school or college member as a co-presenter.
SELECTING A TOPIC
Proposals should be on any area of interest to high school counselors and college admission professionals, including topics related to those on our list of Suggested Session Topics at www.pcacac.org/conferences.
Call Closed
This call is no longer accepting submissions. For a list of calls that are currently open in ProposalSpace, check out our active calls page.