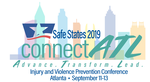 Safe States Alliance 2019 Annual Conference
Safe States Alliance
Thank you for submitting an abstract for the Safe States Alliance 2019 Annual Conference! This year's Annual Conference in Atlanta, Georgia will explore how to strengthen connections that advance, transform and lead the field of injury and violence prevention. We know so many of you are doing exciting work within your communities, states, and nationally, and it's your time to shine by sharing your innovative work with colleagues from across the country.
We look forward to reviewing each submission. If you have any questions, please contact Eva Bland (eva.bland@safestates.org).
This call is no longer accepting submissions.