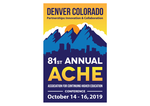 ACHE 81st Annual Conference & Meeting (Oct. 14-16, 2019 in Denver, CO) Call for Proposals
Association for Continuing Higher Education (ACHE)
Call for Proposals for the ACHE 81st Annual Conference and Meeting
Denver, Colorado
October 14 – 16, 2019
Omni Interlocken Hotel
Partnerships: Innovation and Collaboration
As the landscape of higher education continues to change, we in continuing higher education are still the hub of partnerships, innovation, and collaboration across many sectors. We absolutely remain committed to serve students at all levels with non-credit, technical, undergraduate, and graduate programs and new offerings such as badges. The ACHE 2019 call for proposal conference committee is seeking proposals for concurrent sessions and workshops that address the 2019 theme of Partnerships: Innovation and Collaboration. Submissions should fit into one or more of the four tracks identified below and address issues in those tracks or touch on relevant areas not mentioned.
Tracks:
Building for the Future: Higher education has been transforming over the years. It is important to be able to plan and strategize for the future and to be able to respond to the needs of our institutions while focusing on the academic quality and needs of our students. We seek proposals that explore:

Unique partnerships between higher education, private sector, government, and K-12 to fill gaps and meet state needs.
The changing role of faculty.
Engaging faculty in building our collective future.
Collaborative efforts with institutional leaders to expand programs, develop partnerships, and increase enrollments.
Examples of exceptional partnerships and collaborations.
Disruption & Innovation: Higher education is facing a merging of several trends and forces including tuition costs, student enrollment, and curriculum models. Recognizing these potential disruptions is essential to continuing to serve students. The hierarchical structures of many institutions rely on decades old models. Responding to the changing needs within and outside of higher education is critical for our survival. With competition increasing and the continual shift in skills needed in the workforce, it is essential that continuing education remain current in our programming. We seek proposals that explore:

How institutions are addressing continuing education today.
Innovations in continuing education.
Examples and challenges of badges and competency based learning.
Progressive models that span community college to graduate education.
Programs to help our military prepare for their post careers.
Changing roles and responsibilities in continuing education.
The impact to institutions, students, and community partners when continuing education units are decentralized.
New models of achieving the continuing education mission.
Leadership & Change: As we face the changes within education, leadership is still the foundation of development and growth in our sector. Retirements are on the horizon for many continuing education professionals, bringing on the next generation of leaders is critical to the success of continuing education. We seek proposals that explore:

Developing new leadership in continuing education.
Essential skills needed in today's changing higher education environment.
Working smarter in an environment that is "instant" service/answer.
Resistance from the "traditional" side of higher education and solutions that work.
Technology: Traditional and nontraditional educational programs continue to be impacted by the ever-changing use of technology. We seek proposals that explore:

The role of technology in advancing continuing education.
Prioritizing technology needs on a tight budget.
Data analytics and their impact, or not, in decision making.
The increase in the use of AI, such as Chatbot, in accomplishing our work.
Call Closed
This call is no longer accepting submissions. For a list of calls that are currently open in ProposalSpace, check out our active calls page.