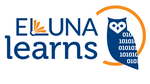 ELUNA learns 2021 Series
ELUNA - Ex Libris Users of North America
The ELUNA learns Planning Committee welcomes proposals for the 2021 ELUNA learns series of educational online programming that will take place over the course of June through November. We encourage our community—including our newer members--to share the many ways they have used Ex Libris products to support the information needs of their institutions.
Each webinar's theme will be developed through the content submitted by our user community. Submitters will be asked to tag their proposal with one or more of the following themes to aid in building this series of exciting and affordable learning opportunities:
Access Services
Acquisitions
Administration/Leadership
Analytics
APIs/Scripting/App Store
Collection Management
Content
Digital Initiatives
Discovery

Diversity, Equity, and Inclusion
Electronic Resource Management
Emerging Trends
Metadata
Resource Sharing
Student Success
Third Party Integrations
Training
User Experience
As you consider submitting a proposal, please be advised of the following:
Each ELUNA learns webinar block will be 3 hours in length and will typically occur from 1-4pm EST.

There will not be a separate call for content typically presented at Developers Day+. Please submit proposals for developer-related content through this form.
The ELUNA learns sessions will convene using the same ON24 platform as it did in 2020. By incorporating community feedback as well as developing best practice guidelines, please be advised of the following:

Each presentation will have a maximum of 2 speakers
Speakers will have the option to either present live or pre-record their presentations (although being available live for answering questions is strongly preferred)
Speakers will include a bio and headshot as part of the proposal submission form in order to reduce tasks to be done prior to the ELUNA learns events
Speakers will provide their slides or video a week in advance in order to give the ELUNA learns planning team time to upload slides and verify everything works as expected
Speakers will receive hands-on training prior to their session in using ON24

Requests for meetings typically held at the Annual Meeting do not need to be made with this form.
Start a proposal
To start a proposal for this call, first sign in to your ProposalSpace account.
Don't have an account? Register for free.