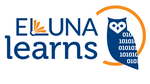 ELUNA learns 2021 Series
ELUNA - Ex Libris Users of North America
**Seeking Proposals for Collections, Developers, DEI, & Resouce Sharing**
The ELUNA learns Planning Committee welcomes proposals for the remaining sessions of the ELUNA learns 2021 series! Proposal review will begin September 15 but you may continue to submit proposals through October 15.
October 27 – Collections | November 10 – Developers | December 1 – DEI | December 8 – Resource Sharing
As you consider submitting a proposal, please be advised of the following:
Each ELUNA learns webinar block will be 3 hours in length and will typically occur from 1-4pm EST.

The ELUNA learns sessions will convene using the same ON24 platform as it did in 2020. By incorporating community feedback as well as developing best practice guidelines, please be advised of the following:

Each presentation will have a maximum of 2 speakers
Speakers will have the option to either present live or pre-record their presentations (although being available live for answering questions is strongly preferred)
Speakers will include a bio and headshot as part of the proposal submission form in order to reduce tasks to be done prior to the ELUNA learns events
Speakers will provide their slides or video two weeks in advance in order to give the ELUNA learns planning team time to upload slides and verify everything works as expected
Speakers will receive hands-on training prior to their session in using ON24
Call Closed
This call is no longer accepting submissions. For a list of calls that are currently open in ProposalSpace, check out our active calls page.