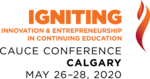 CAUCE 2020 Calgary Alberta; May 26 - 28, 2020
Canadian Association for University Continuing Education
The University of Calgary is proud to host the 67th Annual Conference and Meeting of the Canadian Association for University Continuing Education (CAUCE). The CAUCE conference will be held in Calgary AB from May 26 to 28, 2020. This annual event will explore innovative ways of meeting the needs of diverse learners, and linking our citizens and institutions with issues that matter in the 21st century.
We hope you'll join us in Calgary at CAUCE 2020 to learn from one another and ignite your passion for university continuing education. We will share innovative ideas in the latest research, programming, marketing and more. Through engaging speakers, interactive workshops, and communities of practice, we will inspire each other in serving the needs of adult learners across Canada.
Start a proposal
To start a proposal for this call, sign in to your ProposalSpace account.
Don't have an account? Register for free.