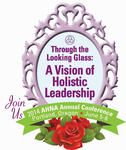 2014 Conference Research Paper
American Holistic Nurses Association
Submission Deadline
Mon Dec 2 2013, 7:59am CET
This call is no longer accepting submissions.
AHNA's 34th Annual Conference, June 4-7, 2014 in Portland, Oregon
Through the Looking Glass: A Vision of Holistic Leadership
Abstracts relevant to holistic nursing research are requested for live presentation at AHNA's 34th Annual Conference to be held June 4-7, 2014. Submissions are anticipated to reflect the conference purpose & theme.
Purpose: The purpose of this conferencei s to enable holistic nurses to develop advocacy and leadership skills which can be used in the transformation of healthcare systems to a caring/healing perspective.
Theme: Gazing into the "looking glass," to the future of healthcare, holistic nurses are posied to lead the way in transfomring the healthcare system to one built on the Core Values of Holistic Nursing. This caring/healing perspective represents a paradigm shift away from a healthcare system that is grounded in a disease model to a healthcare model of whole person caring that is informed by the best available evidence. Holistic nurses must possess education and leadership skills cruicial in addressing all aspects of healthcare reform while ensuring that caring is not lost in process. This conference will explore ways that holistic nurses can enhance their advocacy and leadership skills, becoming transformational leaders, and key members of the inter-professional healthcare reform team. Through mentoring, effective holistic communication, and interpersonal relationships, holistic nurses will actualize possibilities and consciously work to change the culture of healthcare.
Research paper presentations are allotted a 30 minute segment of a 1-2 hour research presentation session.