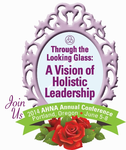 2014 Conference Workshop
American Holistic Nurses Association
Submission Deadline
Wed Oct 16 2013, 2:59am EDT
This call is no longer accepting submissions.
AHNA's 34th Annual Conference, June 4-7, 2014 in Portland, Oregon
Through the Looking Glass: A Vision of Holistic Leadership
Proposals relevant to holistic nursing are requested in the broad categories of practice, research, education, praxis, personal & professional development and aesthetics. Submissions are anticipated to reflect the conference purpose & theme.
Purpose: The purpose of this conference is to enable holistic nurses to develop advocacy and leadership skills which can be used in the transforming of healthcare systems to a caring/healing perspective.
Theme: Gazing into the "looking glass," to the future of healthcare, holistic nurses are poised to lead the way in transforming the healthcare system to one built on the Core Values of Holistic Nursing. This caring/healing perspective represents a paradigm shift away from a healthcare system that is grounded in a disease model to a healthcare model of whole person caring that is informed by the best available evidence. Holistic nurses must possess advocacy and leadership skills crucial in addressing all aspects of healthcare reform while ensuring that caring is not lost in the process. This conference will explore ways that holistic nurses can enhance their advocacy and leadership skills, becoming transformational leaders and key members of the inter-professional healthcare reform team. Through mentoring, effective holistic communication, and interpersonal relationships, holistic nurses will actualize possibilities and consciously work to change the culture of healthcare.
A wide range of topics are expected to be shared through educational presentations that may be accomplished in one or more of the following ways:
Successes

– Share what has worked for you so that learners may benefit from your experiences in holistic nursing leadership.

Experiential & "How To"

– Provide new skills and hands-on learning experiences that learners may take back to their practice and daily lives for immediate application.

Focused-Dialogues

– Facilitate dynamic group discussions and share visions of leadership. Together, explore ways to take purposeful, conscious, intentional action for holistic nursing and humanity.