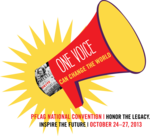 2013 PFLAG National Convention: Chapter Award Nomination
PFLAG National
Submission Deadline
Wed Aug 7 2013, 6:00pm EDT
This call is no longer accepting submissions.
The 2013 PFLAG National Convention is a time to recognize chapter accomplishments and effective innovations in moving equality forward in some aspect of our threefold PFLAG mission of support, education, and advocacy. We honor chapters doing outstanding work in these areas to both appreciate extraordinary effort of individual chapters across the country and to inspire other chapters to consider how they may improve their own effectiveness by adapting grassroots-generated efforts in their own communities.
You are invited to nominate your own chapter or another chapter that does exemplary work in one of the three areas:
Support: Especially effective programs of support for families that struggle with LGBTQ issues


Education: Community-based educational outreach programs to transform communities. Examples include (but are not limited to) making schools safer, assisting faith groups in becoming more accepting, or increasing the number of straight allies and the level of understanding of LGBTQ persons in a community


Advocacy: Meaningful issue advocacy for local, state or national legislation that will affect policies or laws to move equality forward
The nomination form is simple to complete and will ask you to provide some details on the chapters and programs that you are nominating. All nominations are due by August 3, 2013.