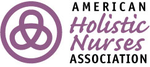 2013 Conference Research Paper
American Holistic Nurses Association
Submission Deadline
Sun Dec 2 2012, 1:59am EST
This call is no longer accepting submissions.
AHNA's 33nd Annual Conference, June 5-8, 2013 in Norfolk, Virginia
Holistic Nurses: Oceans of Possibilities
Abstracts relevant to holistic nursing research are requested for live presentation at AHNA's 33rd Annual Conference to be held June 5-8, 2013. Submissions are anticipated to reflect the conference purpose & theme which is to "to enable holistic nurses to develop and refine knowledge and skills designed to consciously impact healthcare transformation."
Research paper presentations are allotted a 30 minute segment of a 1-2 hour research presentation session.