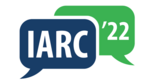 IARC 2022 Call for Submissions
AphasiaAccess
The International Aphasia Rehabilitation Conference (IARC) will be held June 22nd – June 24th, 2022, in Philadelphia, Pennsylvania. This conference brings together a global community of clinicians, researchers, academicians, and students dedicated to improving the lives of individuals with aphasia and their families. International leaders in aphasia research and service delivery will be providing keynote events throughout the conference. The single-track format of IARC 2022 allows for a wide range of presentations and content, but still maintains the intimacy of a smaller scale conference event. IARC 2022 is calling for submissions on topics related to aphasia rehabilitation and we hope you will consider submitting. 
Note: Presenters do not need to be in-person; you will be asked to specify your preference of delivery format (virtual, in-person, or no preference) when submitting your proposal.
You are invited to submit abstracts for the following presentation formats: Oral Presentation (30 minutes) or Poster. These sharing formats will offer inspiration, peer learning, in-depth exploration, and networking. When you submit, you will be asked to identify your preferred presentation format, although the final decision about the accepted format will be made by the Scientific Committee.

Poster: A graphic representation of your work in poster format, presented during a dedicated poster session.
Oral Presentation: An oral presentation of 20 minutes with 10 minutes of questions and discussions with the audience.
All proposal submissions should be submitted in English and contain the following:
Title
Maximum 500-word abstract (including references)
Background: Briefly describe the background to the study

Aims: State the study aims/research questions

Method: Include an outline of the research design, participant numbers with relevant demographic information, data collection and analyses methods

Results: Outline the important and relevant results of the analyses

Discussion and Conclusions: State the basic conclusions including any implications for clinical management or service delivery

References: Maximum five references in APA format
Three learning outcomes for the presentation
Complete Names of Author[s] (Surname, First Name, Credentials, presenting author's name underlined)
Affilitations of Author[s] (Department, Institution, City, Country; please identify any student authors)
Email of Author[s] and any social media handles (Instagram, Twitter handle, etc)
Other contact information for primary author (e.g., telephone number, address)
Preferred format choice (Oral Presentation or Poster and whether you are willing to consider alternative formats)
Preferred delivery format (in-person, virtual, no preference)
Brief biography of Author[s]
Headshot of Author[s]
A completed disclosure statement from the Author[s] (follow the format outlined by ASHA)
The deadline for proposal submission is Monday, November 22nd, 2021 (11:59 PM Eastern Time). Proposals will be evaluated based on originality, coherence, clarity, and quality. First authors will be informed of selection by January 10th, 2022. If you have any questions, please feel free to contact us at IARC2022@AphasiaAccess.org.

Thank you for submitting to IARC 2022. We look forward to receiving your proposals.

Tom Sather, PhD, CCC-SLP 
Program Committee Chair, IARC 2022
Start a proposal
To start a proposal for this call, first sign in to your ProposalSpace account.
Don't have an account? Register for free.