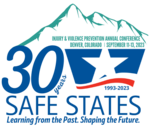 Safe States Annual Conference 2023
Safe States Alliance
Thank you for submitting an abstract for the Safe States Alliance 2022 Annual Conference! We are excited to announce that the 2023 Annual Conference will take place September 11th – 13th at the Embassy Suites in Denver, CO. The theme of the 2023 Conference celebrates Safe States' 30th anniversary, "30 years of learning from the past and shaping the future." This year we will gather to celebrate 30 years of preventing injury and violence with Safe States.
We know so many of you are doing exciting work within your communities, states, and nationally, and it's your time to shine by sharing your innovative work with colleagues from across the country. We look forward to reviewing each submission. If you have any questions, please contact Eva Bland (eva.bland@safestates.org).
Start a proposal
To start a proposal for this call, first sign in to your ProposalSpace account.
Don't have an account? Register for free.