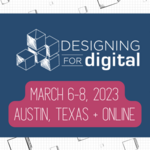 D4D 2023 - Call for Proposals
Designing for Digital Organizers
D4D is currently seeking session and short-talk proposals for the 2023 Annual Conference, March 6-8, 2023.
Details about all speaking opportunities and requirements can be found here: https://designingfordigital.com/speaking-opportunities/
Please review the above submission requirements before completing your proposal.
Start a proposal
To start a proposal for this call, first sign in to your ProposalSpace account.
Don't have an account? Register for free.