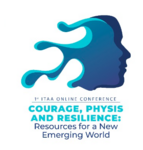 ITAA First Online Conference: Courage, Physis and Resilience
ITAA Online Scientific Committee
In living history, there have been a number of global events that have changed our lives:  The First and  Second World Wars and the  September 11 terrorist attack, to name a few.  Now we have a pandemic that has affected people on a worldwide scale, crossing the boundaries between countries.  We are noticing a hard impact on our habits, traditions, rituals and everyday activities.
We are still struggling and trying to find new ways of relating, working and living in our altered times. We are experiencing loneliness, distance and fear. We need to find new resources to face this challenge as well as the serious and ongoing challenge of climate change.  In this area in particular we need to take account of the environment, acknowledging that we are not the owners, but the caretakers.  We need to discover, understand and develop deep respect and humility.
As part of these necessary adjustments, we need to develop our resilience and find the courage to live in this new and changing world.
This is the context for the upcoming ITAA conference.   It is ambitious and will be the first online conference for us spanning over 3 days and 24 hours each day.  We will have four keynote speakers covering the four fields in TA and 12 different workshops in each 8 hour slot, hopefully doing the same in terms of covering four fields.  
We hope to share our experiences as professionals on how to find new paths for ourselves and our clients.  Our wish is that you will find inspiration on how to thrive and blossom again even though the conditions have changed.  We intend this to be a place of encounter, that all our members and newcomers can enjoy and use to feel to be part of a community that, even in a time of huge change, is always there.
All workshops will run for two hours with breaks in between.  
Please send proposals to arrive from 1st October.   The deadline for receiving proposals is 15th November.  Confirmation of acceptance of proposal will be 30th December.  Registration for the conference will open on 15th January and close 30th April
Call Closed
This call is no longer accepting submissions. For a list of calls that are currently open in ProposalSpace, check out our active calls page.