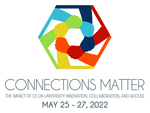 CAUCE 2022: Call for Presentations
Canadian Association for University Continuing Education
Continuing Education (CE) is an exciting and challenging place to work that requires innovative problem solving, entrepreneurial thinking, nimble teams that respond to industry demand, and strong, diverse partnerships. We want to hear how you are impacting your practice within your Continuing Education unit to improve the careers and lives of people in your community and beyond. 
Proposal submission deadline: February 7, 2022 
Call Closed
This call is no longer accepting submissions. For a list of calls that are currently open in ProposalSpace, check out our active calls page.