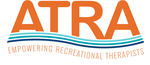 2020 ATRA Virtual Conference Presentations
American Therapeutic Recreation Association
ATRA is going VIRTUAL with the 2020 ATRA Annual Conference! Due to COVID-19, ATRA will be delaying the in-person Birmingham, Alabama conference until 2022. In the meantime, the 2020 Conference will be fully virtual.
This virtual conference provides an excellent opportunity for recreational therapists, students, educators, and allied health care professionals to promote the advancement of the practice of recreational therapy and to share programs, research, practice issues, and expertise on a variety of topics from around the world - right to your office or living room.
Proposals (live and pre-recorded presentations) for the virtual conference are due by July 10, 2020. Speakers will be notified around August 10, 2020. With conference content being available, October 17 through October 25, 2020.
Start a virtual proposal
To start a virtual proposal for this call, sign in to your ProposalSpace account.
Don't have an account? Register for free.